Peek Brothers Racing
and
Peek Brothers Race Cars
1968 was a two part year, August and October. I don't remember what prevented Speed Week from taking place in August, probably water. The only cars that came off the trailers that week were on the air base for Eric Rickman to shoot several cars for Hot Rod Magazine.
'68 was the last year for the wedge engine, wasn't planned that way but everything we did to and for the wedge just didn't do much good. When we came back for Round 2 in October we had our first disappointing year of not going as fast as the year before. Part of the cause was an air box that I built to seal the injectors to the bottom of the hood. I wanted to make sure every little bit of air that went through the scoop went into the engine...just one problem, there was virtually no air going in the scoop.
August of 1968 found the car looking better, good enough to get the attention of Eric Rickman to do a shoot for Hot Rod, see December 1968 issue. The shiny chrome and Cragar wheels were the result of a serious detailing effort. Over the previous winter we put the car in the Sabers car show here in Denver and much to my dismay in a class of three cars we came in third. So much for car shows.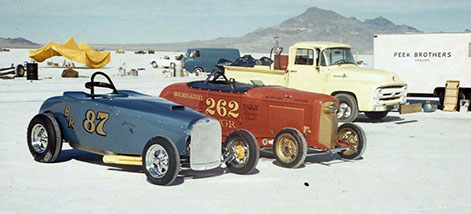 When October came, two to the best looking roadsters sat in the pits side by side. You can't appreciate how much smaller a '29 is until you put a '32 beside it.