Peek Brothers Racing
and
Peek Brothers Race Cars
After a squabble with SCTA over the "step pan" rule change we went drag racing starting in 1972. Being a roadster person, there was really only one choice for the drags, a '23 T bodied AA/FA. We ran two years, having a lot of fun and traveling all over the country. The blue '72 car is below with a fresh car for '73 in the bottom photo. Handicap racing against lower class, slower cars with a blown nitro car was fun but intimidating for the other cars. Fuel altereds had a reputation of doing wild things and since many of them had shorter wheelbases and very high engine placement it is understandable. Even with our cars it could be unpredictable.
Photos from here on are scarce since I was busy working on and driving the car, not behind a camera.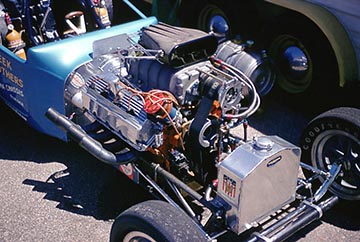 To go from driving at Bonneville looking down the hood then getting my NHRA license in the Bonneville roadster to sitting behThunder Road for the Sunday of a points meet with the chance of getting in a qualifying run. Ran 8.54 at 154 MPH on my first run in a drag racing car!
Bad things can happen at the NHRA Spring Nationals at Columbus, OH when you have a hot track and water blowing out of the back of the left head. It was a bit of a wild two wheeled ride at about 150MPH. It was busy for a few seconds I got it reeled in and managed to get turned off just before the finish line.
I did acquire this car a few years back and we are discussing getting it in line for resurrection.